Speaker Bios
Scott Howard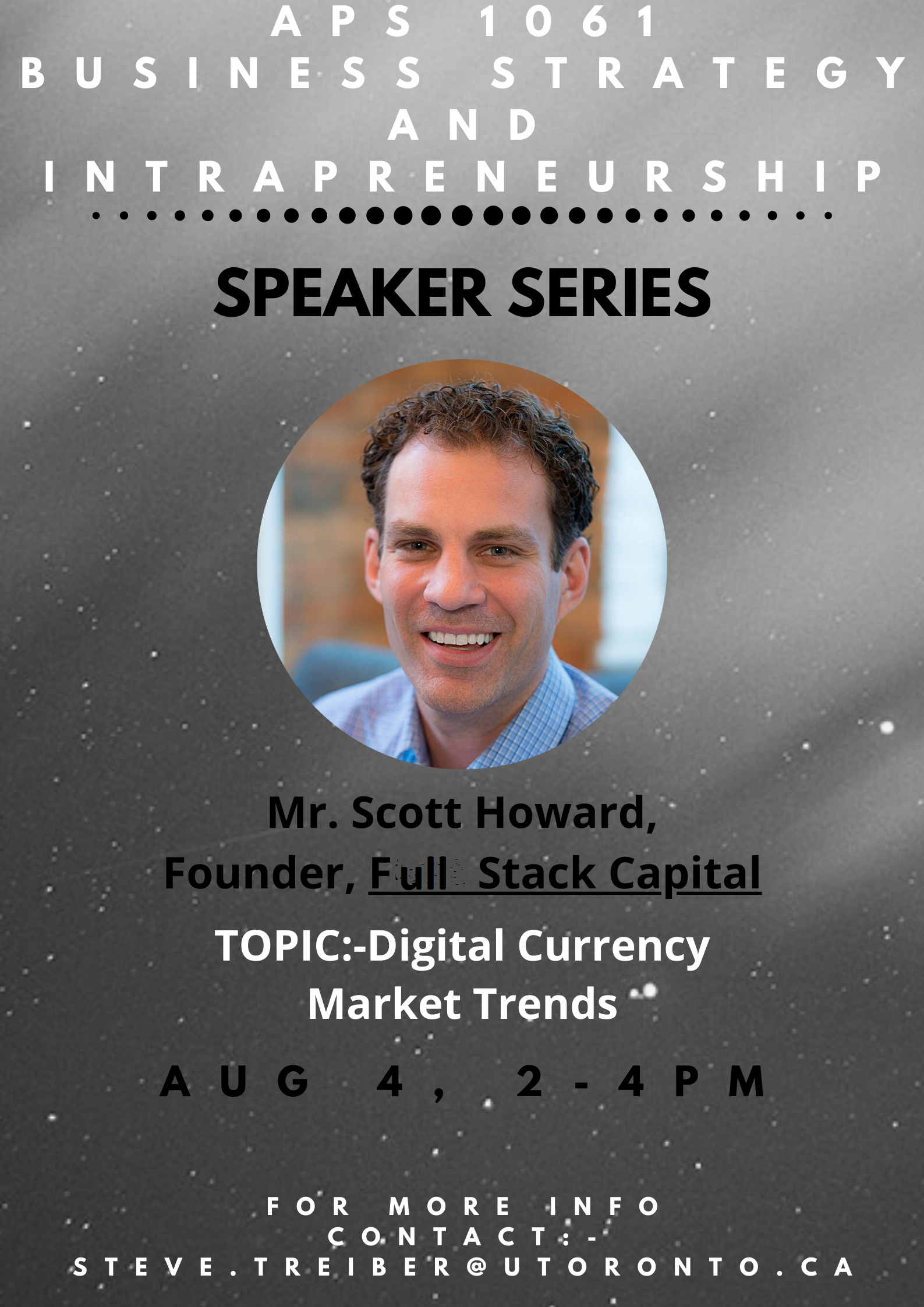 Scott Howard has co-founded leading blockchain projects such as ePIC Blockchain raising $1.55m in seed capital as well as a founding advisor to BlockX Labs. As CEO of Full Stack Capital, Scott leverages his network, skills, and insight on the rapidly emerging blockchain market to enhance the technology's impact. Scott helped fund $1.8m to over 40 Toronto tech startups since 2011. Scott is an industry leader speaking at blockchain conferences, and executing deals with leading projects, companies, and infrastructure providers in the sector.

Ranier Sandoval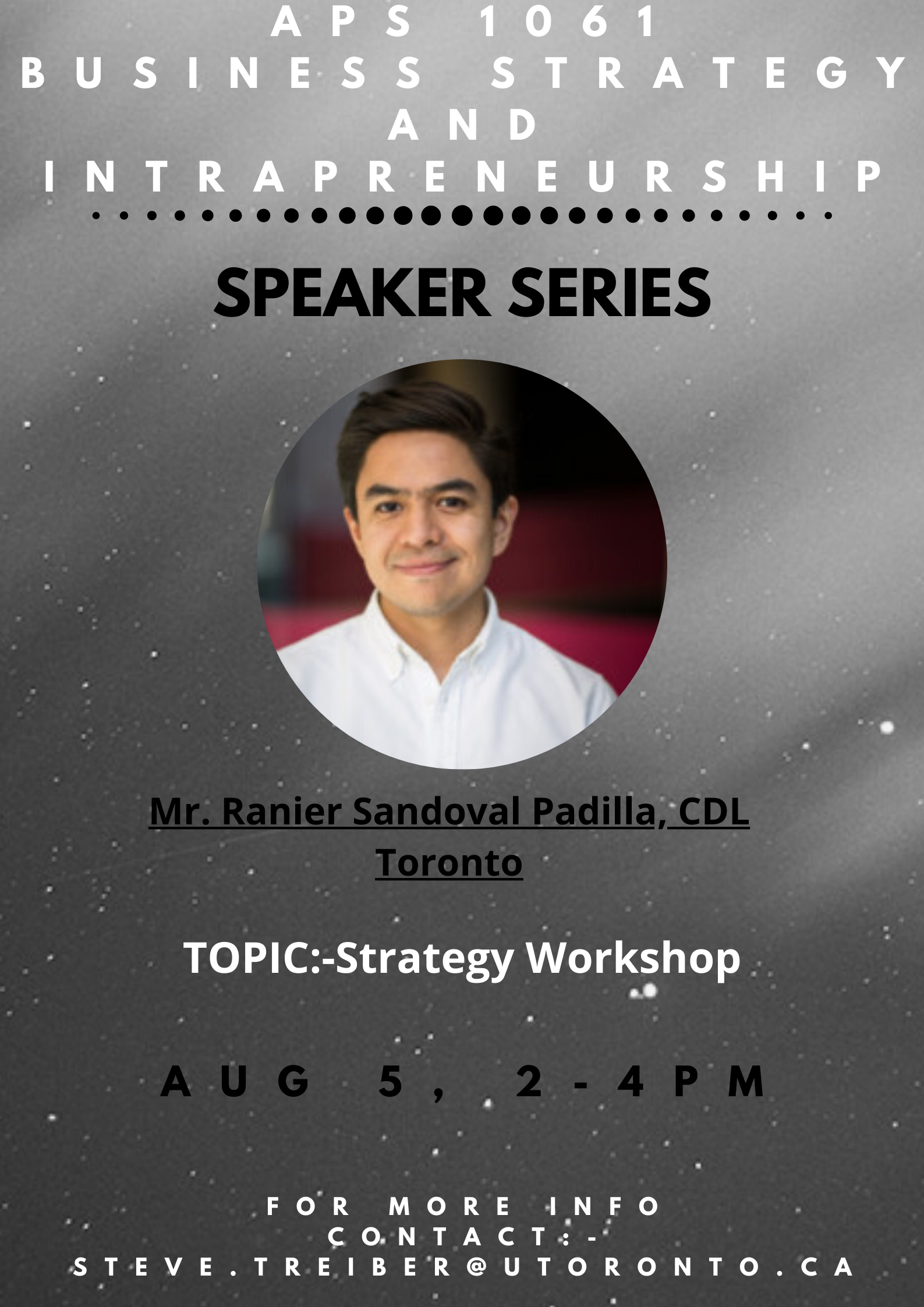 Ranier holds an MBA from the Rotman School of Management at the University of Toronto. He specializes in Business Strategy and Product Management. Currently, he is a Venture Manager at the Creative Destruction Lab (CDL), where he helps science and technology-based startups grow their businesses. Before the joining the CDL, he was a Business Development Manager at Xanadu, a Toronto-based Quantum Computing start-up with the mission of building the world's first practical quantum computer. Ranier has honed relevant experience assessing technology start-ups and is also an Entrepreneur.

Early in 2017, Ranier joined the Strategy team at Walmart de Mexico to execute a 3-year strategy to turnaround the Pharmacy business across Mexico. Ranier has also worked for Citibank and IBM.
Vikram Chopra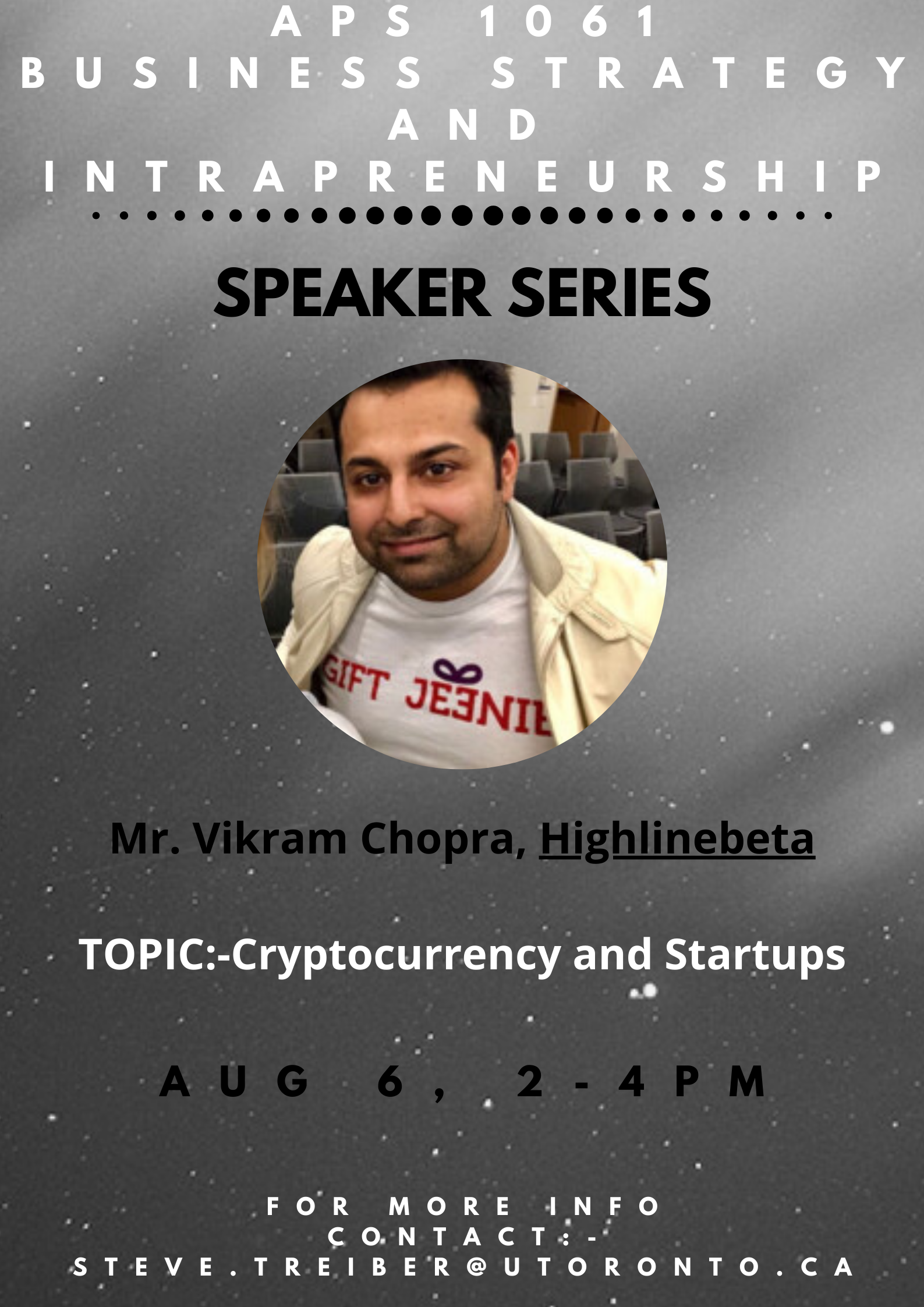 Vikram bring 15+ years' experience as an entrepreneur/founder and goto market expert specialising in taking startups to market. A two-time cofounder with one exit, Vikram most recently cofounded and launched Gift Jeenie, a Data rewards program built on Blockchain. Prior to Gift Jeenie, Vikram cofounded and exited SAAS startup www.firmshosting.com which is now http://www.roundassist.com/ . 


To further expand upon his background Vikram has also spearheaded sales/business development, product launch, growth marketing and overall go-to market activities for multiple startups in the Mobile, Consumer, B2B, SAAS, Fintech, Retail, AI & Blockchain space. This includes playing an integral role in helping early-stage companies forge key partnerships, launch in new markets and generate millions' in revenue. An active startup mentor and adviser, Vikram is well integrated in the North American startup ecosystem. https://www.linkedin.com/in/vikram-chopra-729b887/?originalSubdomain=ca
Ajay Singh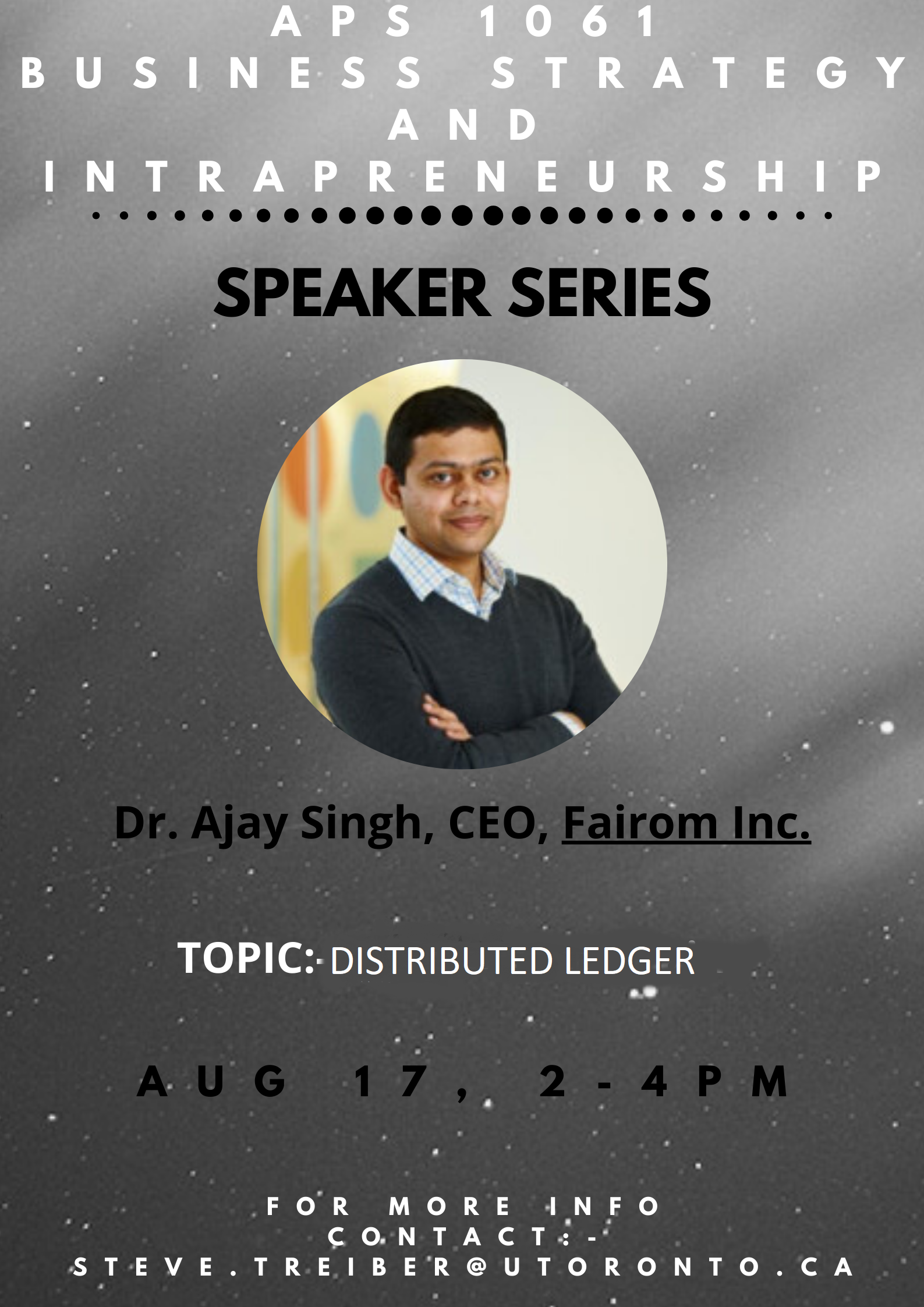 Ajay is founder and CEO of Fairom, a distributed ledger technology company with applications to capital markets. Before starting Fairom, Ajay spend around five years at a Toronto based hedge fund as a quantitative analyst and risk manager. Ajay is a Ph.D. in physics from University of Waterloo and Perimeter Institute for Theoretical Physics. Excited about all types of cutting edge technology, Ajay has tried his hands at various startup ideas in AI, real estate, retail and fintech.
Nassib Kazoun
Nassib is a Managing Consultant with Mastercard's Data and Services business where he helps clients identify and drive data driven technology solutions. Prior to joining Mastercard, Nassib was with Scotiabank for seven years.  He worked in operations servicing all asset classes, then moved into product development and strategy. From there he joined a leadership program and developed a banking practitioner's guide to Blockchain.  He spent over three years in Scotia's Digital Factory heading up blockchain initiatives as a Product Owner and  Strategist.  Being part of the blockchain team he conducted research and experimentation to better understand the technology, how it can change business models, and its most suitable applications.  From there he built out several applications internally solving for different business problems and collaborated externally with banks and other market participants.  Nassib was part of the Jasper projects to better understand digital currencies in Canada, Jasper projects included participants like Bank of Canada, Payments Canada, and the TMX as well as other Canadian FI's.  Among other use cases Nassib also explored the application Blockchain in digital identity, syndicated loans, precious metals, supply chain financing and trade finance, and compliance.
Sachin Jaitly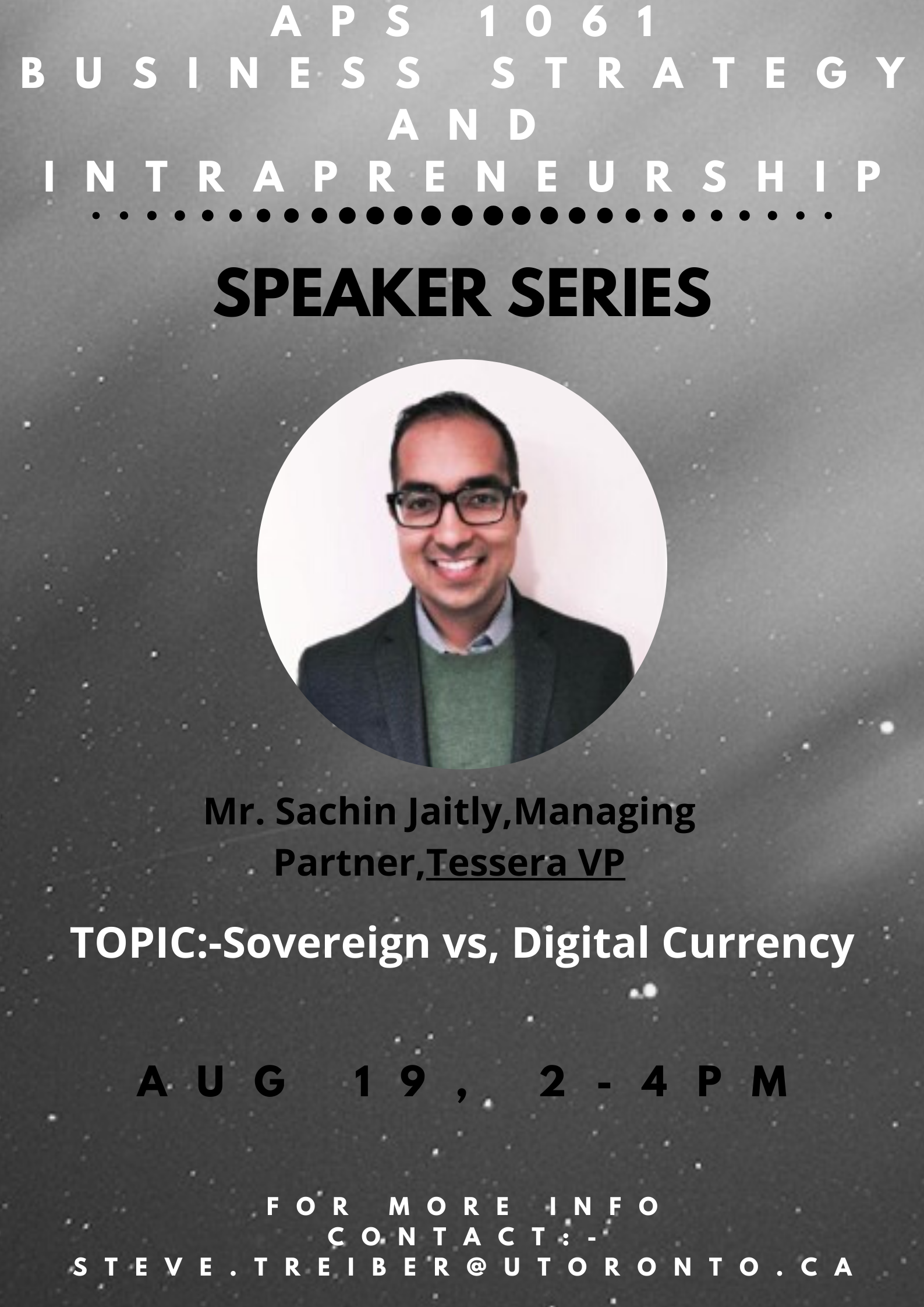 Sachin is an entrepreneur, big data expert, and investor. Over the past 20 years, Sachin has spent much of his career building new technologies to address significant market demands. Sachin was co-founder of flexEngage, which is a patented digital receipt solution. The solution offers retailers the ability to issue digital receipts and track the purchase behavior of their customers. The solution is now deployed to tens of thousands of stores in multiple countries. After flexEngage, Sachin joined Datalogix, which is the largest big data company in digital media. Sachin led the business development efforts with Datalogix and helped scale the company to an exit, when it was acquired by Oracle. Sachin understands the passion and challenges that come along with entrepreneurship. In 2018, launched Tessera Venture Partners to seed great entrepreneurs and help them through their journeys. Sachin graduated with an MBA in Finance and BA in International Business from Rollins College, and holds an Executive Education Certificate from MIT in Blockchain Technologies.
Harpreet Geekee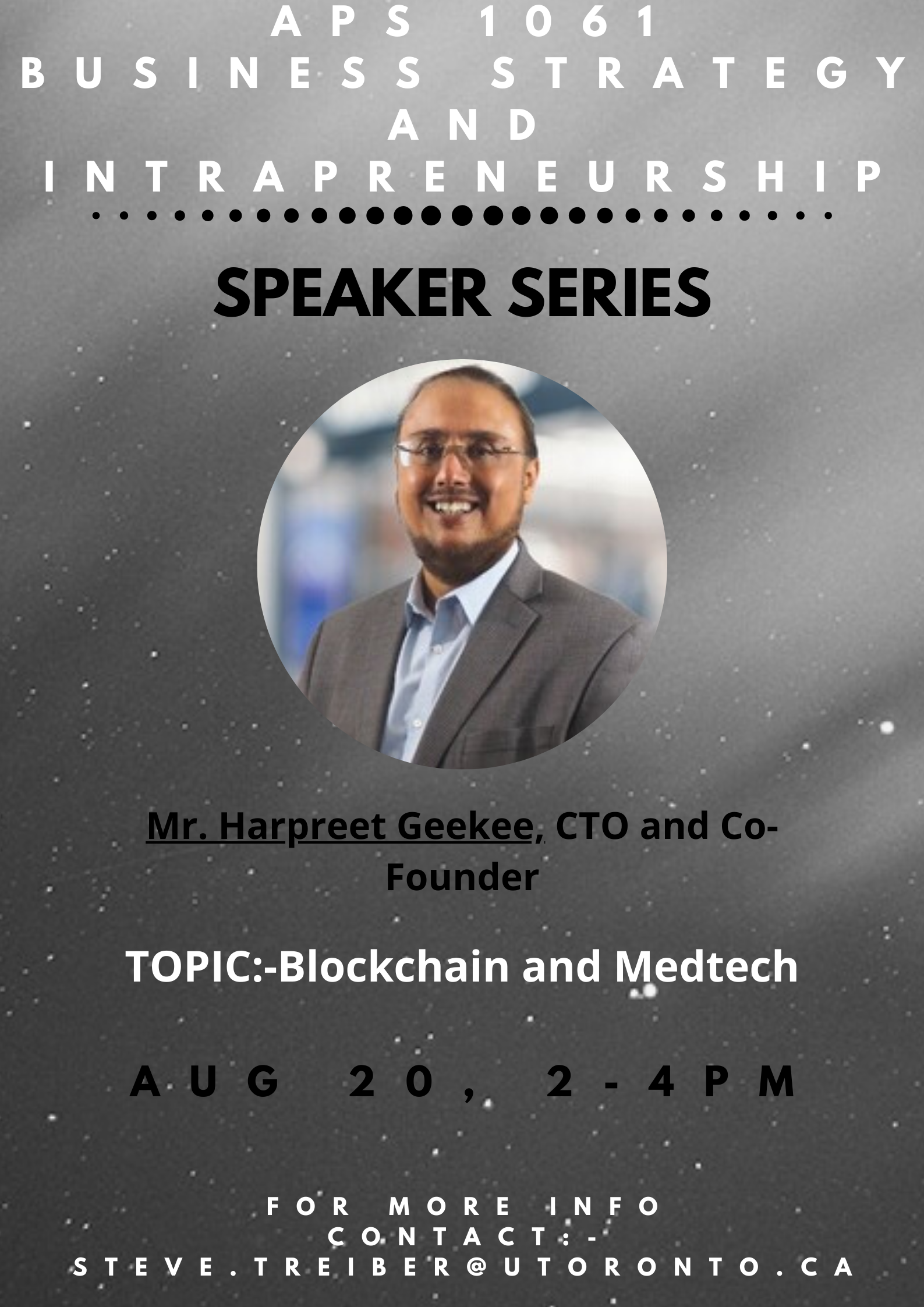 Harpreet Geekee is proven technical leader having held multiple CTO roles with Fortune 500 companies. He has led or advised dozens of blockchain engagements. He currently serves as Chief Technical Officer and Co-Founder of Highmark Global where he leads tech development of Axius, a blockchain enabled marketplace for the $2 Trillion Medtech industry.
Harpreet was previously the CTO for Juniper's Global Financial Services Vertical responsible for helping clients in Financial Services Industry with strategy, solutions to achieve Digital Transformation. When Harpreet was at Cisco, he worked with clients in Manufacturing, Retail, Healthcare to develop and deliver solutions.
Harpreet's passion is to leverage blend of technology and business, to build a profitable customer centric offerings and build a profitable & scaling organization.
Harpreet was a member of the Java Executive Committee (responsible for defining the language Java) for many years. Harpreet has been actively involved in influencing and disruptive technologies like Blockchain, 3GPP's IMS and LTE architectures, IETF's SNMP v3 and SIP adoption in wireless etc.
Harpreet on Twitter: @HarpreetGeekee
Harpreeet on LinkedIn.