APS1061 Syllabus
Business Strategy and Intrapreneurship
Course Syllabus here:APS1061H, Summer 2023
Instructor:     Professor Steve Treiber
e-mail: steve.treiber@utoronto.ca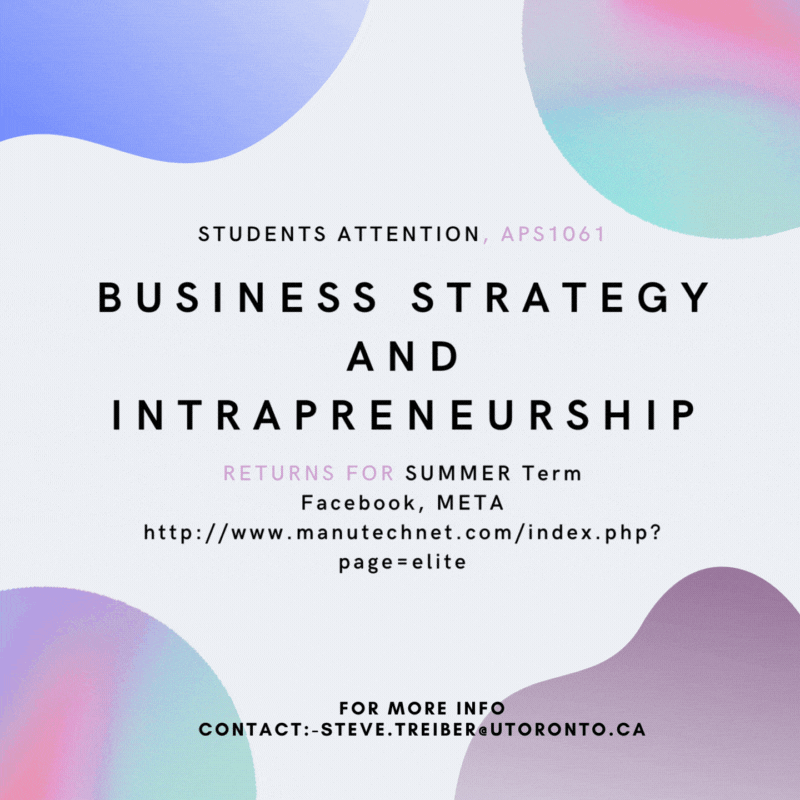 APS1061, "Business Strategy and Intrapreneurship", Pre-recorded lectures and In-person & simultaneous on-line collaborative course.  If you want to lead a business some day this is the course for you.  Every business executive and entrepreneur will encounter complex business problems they must urgently solve.  COVID19, SARS and 9/11 are extreme examples of unpredictable events that can destroy a business. Leveraging some of the problem-solving skills that you have learned during your engineering education, this course teaches how to define, solve and communicate the solution to a complex business problem using an engineering approach.   Each year we use an unsolved business problem published in newspapers such as the Wall Street Journal as the source of our challenge problem.  In 2023 it is Facebook transformation to META. APS1061 course syllabus here.
Students will work in groups to develop a solution to the challenge business problem.  The groups will be given a package of material that identifies the problem in the first class and all groups will come up with their own definition and solution during the course. The inaugural problem, 2018, was how Walmart should respond to Amazon.  In 2023 the challenge business problem will be the Metaverse & Business:  Facebook™ is attempting to launch it's version of Web 3.0, the Metaverse.  Having failed to launch  the Libra/Diem™ cryptocurrency and blockchain Mark has decided to double down and transform his company.  Facebook(META)™ is facing a number of challenges including head to head competition from Apple, Google and Microsoft who are key partners, regulatory and Congressional resistance who fear invasion of privacy, money laundering and Big Tech generally.  Our objective is to develop a business strategy and plan that will bring this business to a successful launch.  Guest speakers from companies involved in cryptocurrency and blockchain are invited to class to discuss their views on the problem.
Classes WB219, May 1-5, 2023, 6-9pm every day; May 15-19, 2023, 6-9pm every day; and May 26, 6-9pm.